DUCKLING WITH SOME BIG STRENGTH AND SIZE, JOINING THE FLOCK!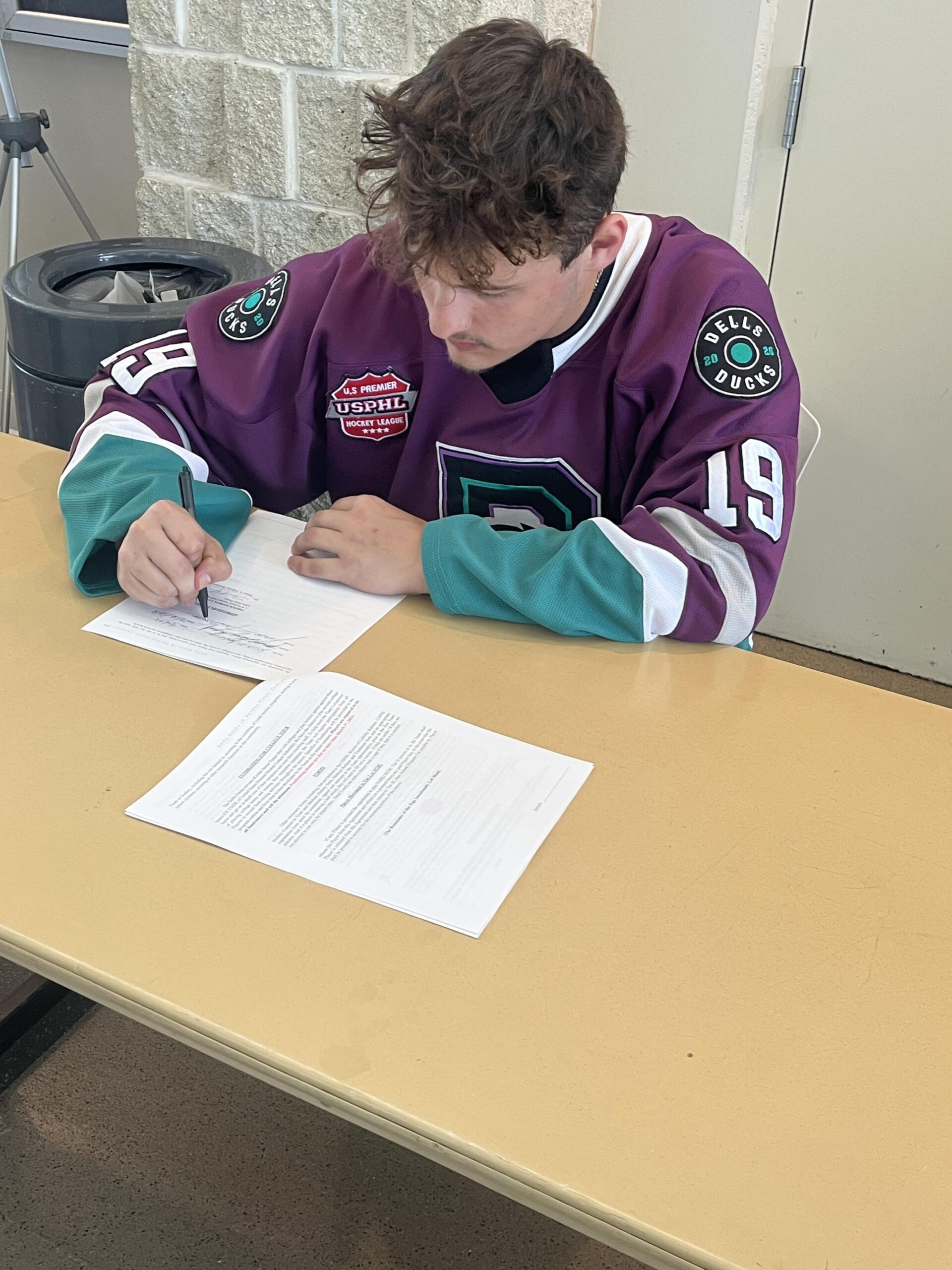 JACKSON LAWLESS SIGNING HIS CONTRACT.
The Dells Ducks recently signed a new player for the 2023-24 season with Kansas City, MO native, Jackson Lawless coming aboard.
Lawless, a six-foot, 205 lbs. right shooting defenseman and an '05 birth year comes to the Ducks following a couple seasons with the KC Knights varsity hockey team after a chance meeting Coach Rohde in the Windy City
"I met Coach Rohde at a tournament in Chicago and was impressed with his ability to work with players he's never seen and bring us together as a team," said Lawless on a team questionnaire.
A rugged blue liner, Lawless said his size, strength and effort play a part in his success as well as passing and skating technique. "I am a team player and have a high hockey IQ, said the defender who counts Seth Jones of the Chicago Blackhawks as his biggest hockey influence.
Good in all situations, Lawless counts special teams (both PK and powerplay) as his favorite times to be on the ice.
The jump from varsity to junior can be intimidating and Lawless is aware "Speed of the game and size of the players, plus being away from home," will all be things to prepare and be ready for. His goals for the season are general for his rookie season.
"Improving as a player to be the best I can be and developing a positive team mindset," is what the rookie dman is looking to accomplish this season.
Among his accomplishments so far was helping a weak team make a massive post season move recently.
"Helping turn around a zero-winning team into a semi-final team in a league championship tournament," said Lawless. "Scoring is always fun, but I enjoy a good assist."
Lawless has never visited the Dells before or been in a billet situation, but he is excited about both.
"It sounds like a great little town with lots to do," said Lawless. "I have never billeted with a family before. I am looking forward to living with a new hockey family."
He had a choice for favorite team but added he is happy to watch any games.
"I am an overall hockey fan and especially enjoy watching the first round of playoffs. If I had to pick a team, I would choose the Chicago Blackhawks.
Lawless may have been a bit of a late arrival to the sport saying he played baseball, football and wrestling before lacing up skates.
Lawless should not have trouble finding his favorite pre-game meal — "fried, roller grilled, gas station food and a quart of chocolate milk." Also, pre-game stretches, listing to music and "Putting on the bling (aka necklace)" are all part of his routine.
By Jim den Hollander
SPEEDY DUCKLING, JOINING THE FLOCK AND READY TO MAKE AN IMPACT!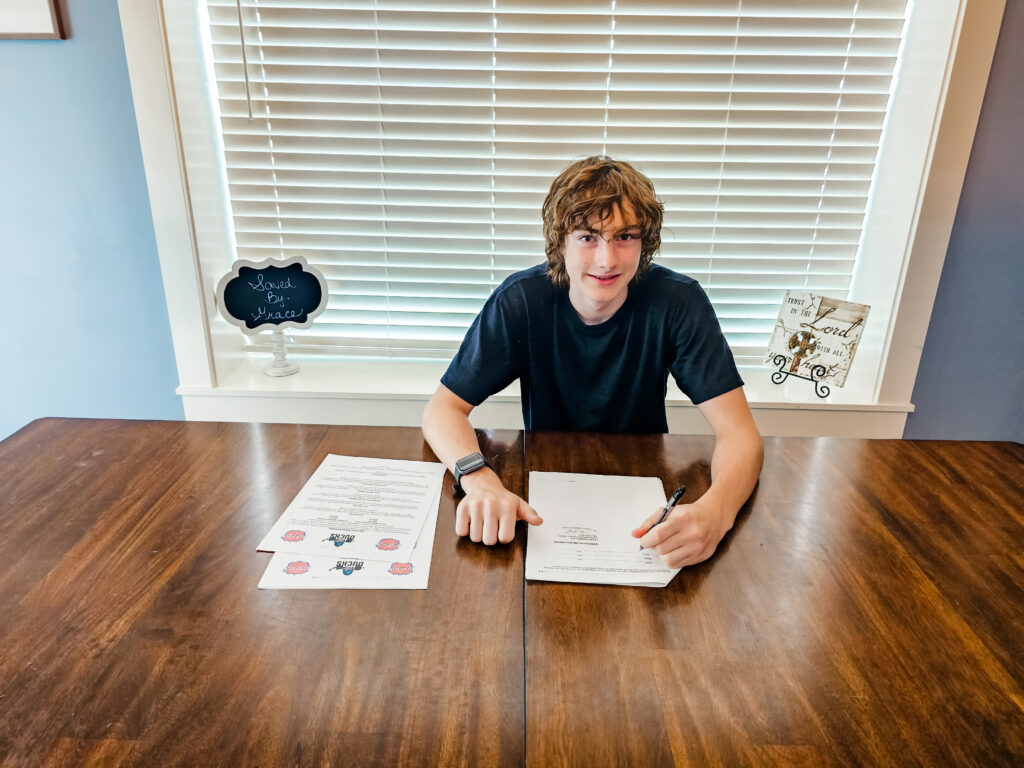 ZACHARY HALLING SIGNING HIS CONTRACT.
The latest addition to the Dells Ducks brings experience from the Sunflower State and Zachary Halling is aware he will not be in Kansas anymore.
The '07 birth year from Troy, KS played last season for KC Fighting Saints Varsity Team, totaling 15 goals and 40 points. A 5'9″ 145-pound forward, Halling is a right-shooting forward.
Halling said his biggest hockey influences include Taylor 'TK' Kennedy and Nick Turcotte, the latter listed as a scout for the Ducks and a friend of Head Coach Anthony Rohde.
The chance to continue his development under the tutelage of Rohde was one of the primary reasons for Halling signing on with the Ducks along with "more ice time and training, playing with players that have the same mindset and passion for the game," said Halling on a team questionnaire.
The young forward said full strength is his favorite on ice situation "But my competitive side enjoys a successful penalty kill."
Playing against players up to four years older, Halling is keeping his expectations general in "I have many (goals), but to name a few, get stronger, faster and improve my skills." He is aware this might be the biggest transition he has made in his hockey career so far in terms of "The skill level, game speed, size of players and the amount of training and ice time."
So far Halling rates being part of a 16U AA Spring team that won a championship as one of his biggest accomplishments in the sport so far. The billet experience will be new for him and his only previous visit to the Dells area was for a hockey tournament during the COVID epidemic so he did not get a chance to see much of the community.
Halling is a fan of the Edmonton Oilers and counts Connor McDavid as his favorite player. Hockey was his only sport in his high school years.
Unfortunately, he will miss Chipotle, one of the few food chains not available in the Dells area as he enjoys that as both his pre-game and post-game meal, although he will substitute a burger post-game.
By Jim den Hollander